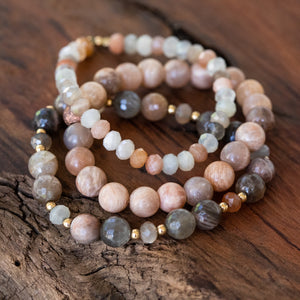 The Power of Love: Moonstone, Sunstone and Peach Moonstone Trio
This beautiful trio set can be worn together or as individual pieces. You can keep them all for yourself or make one a gift.

The fair and lovely peach moonstone with its gentle peach essence, is a stone of the heart, a crystal of unconditional love and support.  It carries a soft feminine energy of compassion and peace, tenderness and healing, nourishment and comfort.
The sunstone, moonstone and gold combination is a powerful aid to bring joy and other positive feelings into your life. Wherever you happen to be on your journey, give yourself permission to love yourself unconditionally, letting go of painful memories of the past and moving forward, just like the sun rises and sets in the never-ending cycle of night and day. After all, it's our imperfections that help us grow and transform.

Call on the moonstone crystal meaning to unlock the inner goddess that exists deep within your spirit and channel the brilliant white illumination of moonbeams shining light on your pathway to balance and harmony. Moonstone is believed to be a stone of destiny. It is strongly connected to the moon and the divine feminine, making it a wonderfully helpful stone for women
This bracelet combo is a natural beauty, you can spot the iridescence from sunlight!
Sizing:
Stretch Magic is used to string the original gemstones which is durable, strong, and stretchable. Bracelet will fit a small wrist and stretch up to up to a 7.5" wrist. Designed at 7".  If you need very small or larger please place a comment when ordering. If larger than 7" there will be a charge for additional stones .

This bracelet goes well stacked with any of our stacking bracelets or looks great just on its own. So what are you waiting for? Place your order immediately. 
Please note: All stones are natural so each one is unique in nature. Expect some variation.
---