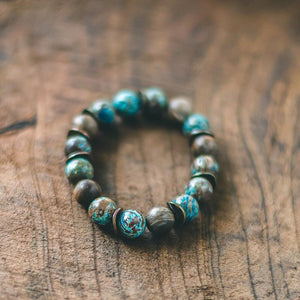 Go with the Flow: Crazy Lace Agate and Opalite Bracelet
Are you ready for this one? The magic of crazy lace agate will take you into its grips. The intricate patterns of this mystic stone are mesmerizing. We have blended this stacking bracelet with opalite stones to create an enchanted bracelet that evokes nostalgia. To heighten the appearance of the aged bracelet, we have used brass and antique bronze wavy spacers. A vintage piece that will always get noticed – that is the power of this bracelet.
Crazy lace agate has swirls of color bands that make it very appealing. The stone has spiritual powers too. It protects from outside influence and keeps you grounded. It provides emotional stability and helps you to flow with life without feeling tied down.
Opalite is another beneficial stone that removes blockages and allows energy to flow unhindered. Opalite helps in accepting, and hence, it will make it easy for you to transform your life. Thus, jasper and opalite will help in removing obstacles from your life.
Different hues of green blue and other earthy tones make this bracelet look exquisite. .
As an accessory, this is the bracelet you need to make a style statement. It will be the focal point garnering attention and making you look chic. You can also gift it to your friends to celebrate special occasions.
When you really want to rock and feel confident in your own skin, don this bracelet. It will make you look fashionable while its healing stones bring you tons of benefits. From balancing your mind, body, and spirit to transforming your life!
Sizing:
Stretch Magic is used to string the original gemstones which is durable, strong, and stretchable. The stacking boho bracelet will fit a small wrist and is designed at 7" to stretch up to up to a 7.5" wrist. If you need very small or larger please place a comment when ordering.
---