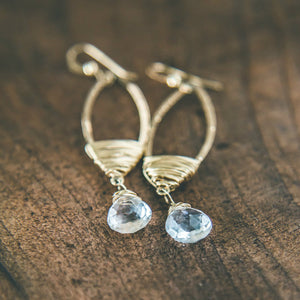 Free to Be Me: Gold Chandelier Quartz Crystal Earrings
A free spirit is that person who enjoys all the beautiful things that surround them and likes to discover the beauty in life, not only just "traveling" to the destination point. Enjoy yourself and always repeat that: I'm "Free to be me"!
These are some statement earrings that every woman should have in her jewelry box. Simple, yet elegant, they represent the most wanted fashion item anyone could ask for. The gold earrings are created with a stunning clear quartz crystal and this creates the perfect blend between the sensibility and power of quartz and gold.  The clear quartz is named "the master healer" because it is used to cleanse and amplify energy levels and it diffuses negativity. The gold filled wire wraps around the teardrop to create a unique and gorgeous look with the quartz crystal that catches the eye in an instant due to their glow and sparkle. The quartz crystal sways from the teardrop earring frame, creating a beautiful flow and a perfect blend between sensitivity and strength. The Gold Chandelier Earrings are versatile, light weight and you can accessorize them for a casual look or when attending classy, elegant events. They are the perfect piece for a bride or bridesmaids  as the crystal quartz is a beautiful representation of true elegance. Get them for yourself or offer them as a gift, either way they will be appreciated!
These special earrings are inspired by the determination and the powerful features that the stones have. You are made to shine and be the person you want to be. Don't follow anyone else,  just be free to be you!
10mm faceted quartz crystal
The gold filled teardrop is 38x16cm
Gold filled wire and gold filled ear wire
See additional healing crystal earrings
---