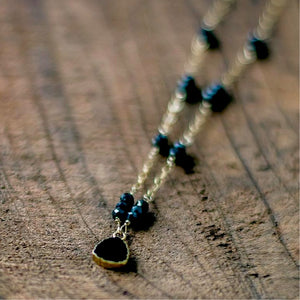 Ground Yourself: Black Onyx and Spinel Gold Necklace
Jewelry made of black onyx not only looks stunning but it bestows the stone's capabilities upon the wearer too – sounds perfect, right? That is why this necklace is a must-have for you. 
If you love sporting unique and meaningful jewelry will you will love this necklace  We have used a gold-filled chain to hold the striking black onyx connector, which is set in gold to enhance its appeal. Small pieces of faceted black spinel break the monotony of the chain and give it a gorgeous appearance. The luster of gold and black complements this fantastic necklace. Simple and elegant, this chain will transform your daily outfits. Wear it for some good luck or simply to wow people.
A trillion cut black onyx encased in gold form this striking necklace.  The trillion cut is such an eye catcher. The stone .will help you to embrace change and keep negative energies at bay.
The "powers" of black onyx can be extremely valuable. It has strong grounding properties and can remove unpleasant energies from the environment around you. The gemstone balances, grounds and absorbs negativity, so only good vibrations can get through. Creativity is encouraged as you can focus better, get more ideas via constructive thinking and logical reasons, and take beneficial decisions.



The chain is formed by small pieces of black spinel, each wire wrapped in gold wire  and creates its sheen and dainty look. The lobster clasp is also gold filled.
The highly polished and simple look of the necklace makes it a favorite with all. Match it with your evening dresses or wear it to the office for a charming appearance.
Strong and durable, this necklace is lightweight and perfect for daily wear. The bold and elegant combination will help you to create a pleasing appearance. Enjoy the benefits of the rare gemstones and see how your life gets better with each passing day. Choose this necklace to show your sense of fashion and also to ensure spiritual growth.
---